Meon Valley Repair Café nominated for BBC Environmental Award
Meon Valley Repair Café has been nominated for a BBC Radio Solent "Make a Difference" Award. Chosen from hundreds of applications the Café has reached the final stage of four nominees in the Environmental Category. The winner will be announced at a BBC Radio Solent Tea Party in Portsmouth Guildhall on 20th October.
The Repair Café is based at Waltham Chase Methodist Church and is an initiative run by the church for the local community. Three men from the church decided to see what they could do to reduce the amount of broken portable domestic items taken to the local tip and hence landfill. They spoke to Hampshire County Council and were awarded a grant to fund the project. An additional benefit was to get men together to encourage wellbeing; reducing depression and discussing health problems men may encounter.
The project started its trial period with meetings once a month for several months, before the Grand Opening in February this year. A shipping container was installed in the church car park and fitted out with a work bench and tools. A basement room with attached kitchen was allocated in the church. There are now about fifteen men who have volunteered to help but attendance is quite casual and usually eight or ten come along to fix things on the first Saturday morning each month, encouraged by the bacon butties and coffee. And there's also no shortage of items to repair. These have included wooden and concrete items, an exercise cycle, guitar case, a computer-printer interface, clocks, vacuum cleaners, electric drill, food mixers, cassette radio and a pair of trousers! Fortunately the team has engineers qualified to repair electrical items and test them to the required national standards. Word is spreading and there are now an increasing number of items to repair. An oft heard cry is "Could you just have a look at my broken…?" Possibly with the words: "I have asked my other half but they haven't the time to fix it"! Working together as a team it's been found several brains are better than one.
Meon Valley MP Mrs Flick Drummond was invited to the Grand Opening and cut the specially made Repair Café cake. Hampshire County Councillors, District Councillors and well wishers also came along. Hampshire County Councillor Rob Humby cut the ceremonial ribbon to declare the Repair Café open. It was great to see everyone pulling together. Most of all it was wonderful to be able to share with others in determining how we all move forward in overcoming these twenty first century challenges.
It's a good demonstration of how churches and local authorities can enjoy each others' company and build strong links.
Volunteers are always needed with skills to help repair items such as domestic electrical and mechanical goods, jewellery, leather and even clothing. Ladies come along to offer their skills too and are of course very welcome.
To contact the Meon Valley Repair Café email: admin@meonvalleyrepaircafe.co.uk
Facebook page https://www.facebook.com/MeonValleyRepairCafe
Instagram page https://www.instagram.com/repaircafemeon/
Repair Café is an international initiative started in Holland and there are others within Hampshire too.
Martin Letts
Meon Valley Methodist Circuit Steward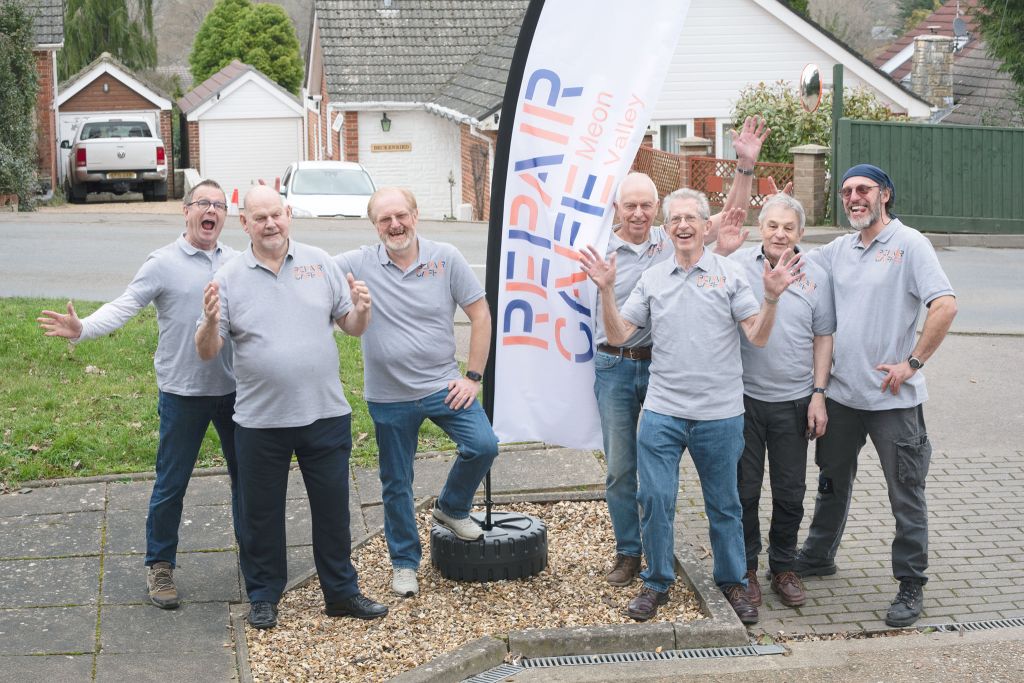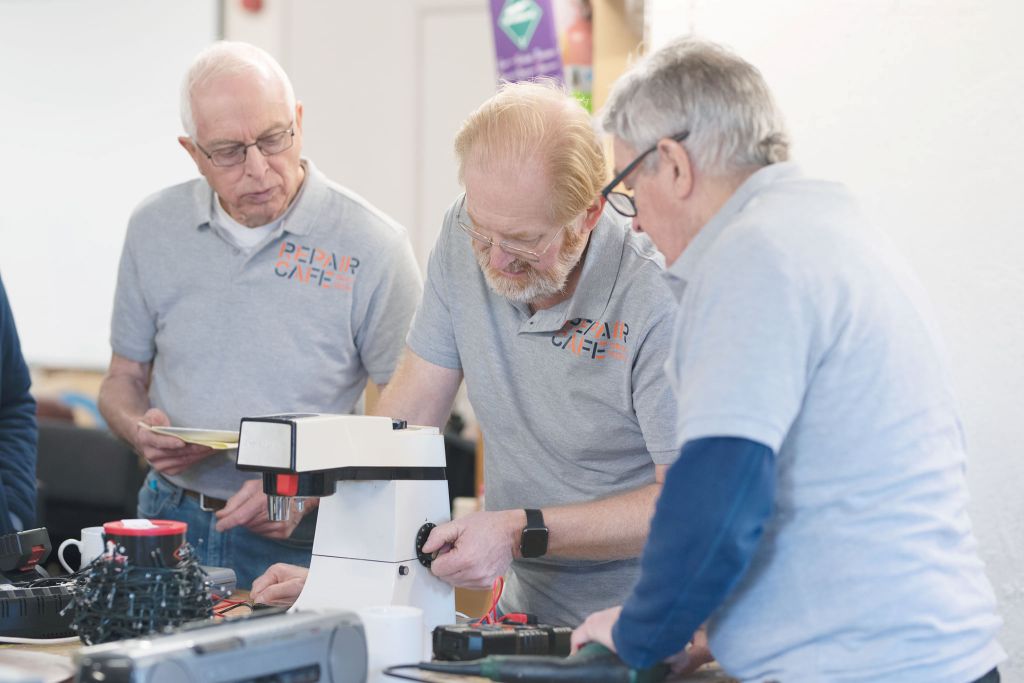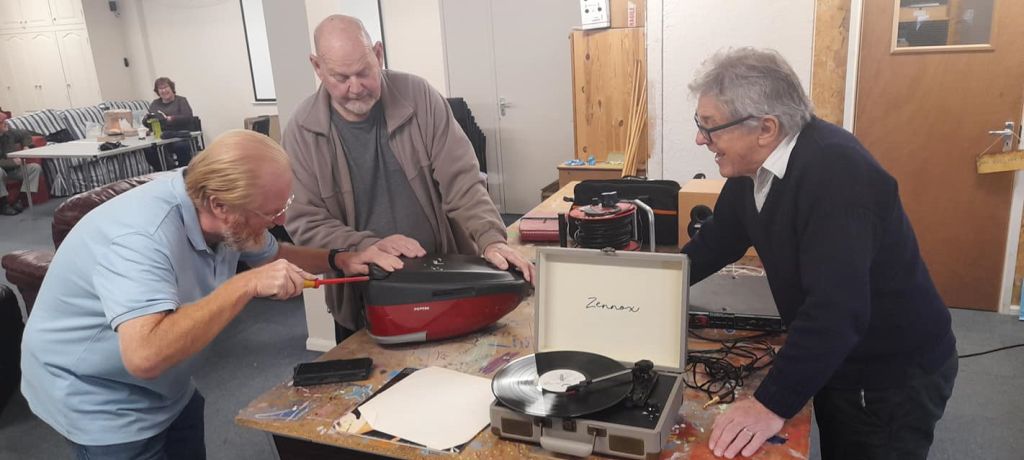 Local family's experience of helping a Ukrainian family
It is good to know that Methodists locally and across the world have provided prayers and support for the situation in the Ukraine. Sadly, there are so many situations in the world requiring our prayers, support and donations and as each hits the headlines, there is a danger that other equally well deserving causes drop off the radar.
I find that the situation in the Ukraine remains high on my agenda and in my thoughts as myself and my husband decided to offer a home to Ukrainian visitors.
Whilst this may not be possible for people for many reasons, space, location, regular family visitors or commitments, for us it was more a question of "Why not?"
I thought it might be helpful to share our experience, which has been a positive one as it may encourage more people to see it as a possibility and make further enquiries. A recent discussion with a friend who is in regular correspondence with a resident of Kiev, highlighted the passion of the Ukrainian people to continue the war to ensure their independence from the aggression of Russia. Without doubt this will be a longer conflict than we would wish and more people will flee the country requiring refuge in friendly countries.
The actual administrative process for obtaining Ukrainian visitors is streamlined now and should not present too many difficulties, although impossible I would think without access to a computer. I must highlight the services of the Ukrainian Dorset Community (based in Bournemouth) who have worked tirelessly to assist hosts with applications, match them with known friends and family in Ukraine and ease the process of Visa application and introduction to families. The community is providing social events for the visitors and practical assistance and advice.
Additionally, Dorset Council and I believe Bournemouth, Poole and Christchurch Council have provided support, information and prompt financial assistance to hosts and visitors.
There are now a network of support groups developing throughout the area to offer friendship and support to hosts and the new communities arriving in the area.
Our own visitors, a 53 year old Mum who is an English teacher and a 16, now 17 year old young man, have proved to be easy house guests who have accepted help but generally wishing to be independent in their new home. Our Mother is an able, charming and kind person, a Christian in the Orthodox Church, who has joined me at Upton Church. She has been keen to find appropriate employment, but firstly to obtain a College Course for her son. He has now found a place at Brockenhurst College.
It has been humbling to hear the experiences of my guests and to share with their upset and grief for the loss of family and friends and dealing with the uncertainty of the future. Memorably we had a conversation with our guest's husband who emotionally expressed his gratitude for us welcoming his family into our home.
I have been grateful to all my friends who have offered practical and emotional support. It has been amazing those who have wanted to help.
At the moment our guests have returned to Romania to visit family remaining there, but we are in close contact and expect them to return soon.
Please do consider if you could offer a home to a Ukrainian family or indeed have friends who may wish to do this. I would be pleased to offer support if I can. Do maintain Ukraine, the war and its people remaining there and displaced by the war in your prayers.
Teresa Neal

If you are affected by this article, or it has encouraged you to consider hosting a family, Teresa would be happy to talk to you – please get in touch for further details.
Platinum Jubilee
A poem written by Martin Letts in the Meon Valley circuit; read out on BBC Radio Solent!
A tribute to Her Majesty
A tribute to your Majesty on this your Jubilee
We want to offer thanks and love to Queen and family
For you have reigned for seventy years and many a government seen
Which rise and fall and come to call, in the time you have been Queen.
We often think it's easy to oversee this land
We think you have all power you need, to change things by your hand
You may discuss but not dictate the challenges of state
Please - never leave the politicians to solely make our fate.
We all have families like you ma'am, they sometimes go astray
Despite your offers of advice they always want their way
And you have tried, no doubt you've cried
And you have had your share
It must be more than difficult now Philip isn't there.
But you have shown stability in all you say and do
For many years you've guided us, and God has seen you through
For you deserve a real rest, after your many years of state
For you've done your utmost best, to make Great Britain great
A wonderful example to people when you come
Despite your tribulations, you've become our Royal Mum
Our affection we wish to convey
And peace as you walk on your way
God bless you - live long
An anthem in song
For this is your Platinum Day